One of the brands I wanted to give a try is Innisfree. I got so excited when I first watched some clips of this brand spreading in social media, and when I saw Lee Min Ho as their endorser.
OMGGGGGGGG! OPPAAAAAAAAAAAA!~~~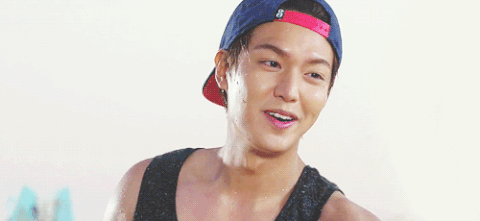 This is what I'm saying… natulala ako for a minute when I attached this gif. Hihi! So kilig!~ Car focus! focus! focus! Hinga malalim. Lol.
Going back…
So, after seeing lots of advertisement about Innisfree, I got curious and started reading some of the products that I want to buy. I was actually looking for another type of facial mask something like a cream or a gel type. Gladly, my friend who's also obsessed with Korean products, discovered this product called Jeju Volcanic Pore Clay Mask by Innisfree. Therefore, I started reading some reviews online and got interested with its performance as it seems to deep cleanse the pores and has a very important benefit that I'm actually looking for. So today, I'm gonna share with you more about this product and my thoughts after using it.
By the way, I wrote about the masks that I'm currently using. Feel free to read my blog about that~ Klairs & Holika Holika Sheet Masks.
WHAT IS INNISFREE – JEJU VOLCANIC PORE CLAY MASK AND ITS BENEFITS:
The clay mask has a 3-in-1 benefits: Removes Sebum, Brightens Skin, and Treats Blemishes. It amazingly absorbs sebum and impurities that will give your skin a clear look. It contains an important ingredient which is known as volcanic scoria from Jeju. It delivers minerals deep inside your skin, brightens and clarifies your skin tone, and creates an ideal texture. Also, the product has a 4-free system: mineral oil, animal-originated ingredients, artificial fragrances, and imidazolidinyl urea.
INGREDIENTS:
PACKAGING:
It comes with a brown box which is made of a hard paper, and inside is the container of the product itself which is made of hard plastic. It has a Korean and English descriptions on the box. When you open the product, there is a film on top that you can remove, so you'll be able to get the mask out of it.
HOW TO USE IT:
After washing your face and applying toner, gently smoothen the product over your entire face. Avoid using the product on your eye and lip areas. Rinse off the mask with lukewarm water after 15 minutes. It's very easy to apply as well as to wash off. It's recommended to use once or twice a week.
I'm using this product every wed and sun. Maybe, you'll ask why. Well… It's actually depends on you, I just prefer wed as my pamper day; and for sun, just to complete my rest day and before I start my busy week. But like I said, if you'll use it, you can set any day that you want.
PRODUCT FEATURES:
The product looks small, but you know what, you don't need to use much for every application. Just get a very small amount of clay. It's also easy to spread out all over your face. The clay smells simply like a clay with no strong scent. After 15 minutes, the clay will get dry, but it won't turn into anything hard unlike the other type of masks I tried before.
MY THOUGHTS:
I used this clay mask twice last week, and I honestly like the result. For as early as 2 times of usage, I can see how it makes my skin looks different. I have a sensitive type of skin, and once I tried a new product, I can easily see if it's good for me of not as it visibly shows irritation and redness. But after using this one, I didn't experience anything like that. So, I can say that this product is good for me. I'm actually looking forward to see the results because it claims that this clay mask can also treat blemishes. I also have that issue. As what I've noticed, some of my dark spots started to brighten up. Though it's still visible, but not that much unlike before. I guess I can see much better results in the coming weeks. I'm looking forward to that.
There is also another volcanic clay mask product of Innisfree which is called Super Volcanic Pore Clay Mask.  The difference is that, Super volcanic is great for treating pores. Here's a quick product overview:
6-in-1 Pore care: Shrinks pores + Controls sebum + Exfoliates + Deeply cleanses + Brightens tone + Cools
I'm planning to try this product as well next time.
How about you? Have you also tried this product? Share it with us
PLEASE READ DISCLAIMER 🙂